We are a trade show management company specializing in wholesale children's clothing and accessories sales representatives. This has been our focus for over 40 years. We provide an exhibition service for these sales representatives in Nashville, Tennessee. This serves children's and gift stores in Alabama, Indiana,Kentucky, Ohio, and Tennessee.
New Attendees - Please Provide All Information Fill in ALL boxes COMPLETELY. THIS IS NOT A PRE-REGISTRATION
SALES REPRESENTATIVES
AUGUST 2023 BUYERS GUIDE IS POSTED ON THE STORES TAB
If you are a sales representative and are interested in showing with us, please contact us for access to more information. We will give you the password for the sales rep page. This will give you access to contracts for upcoming shows, attendance and rules and regulations.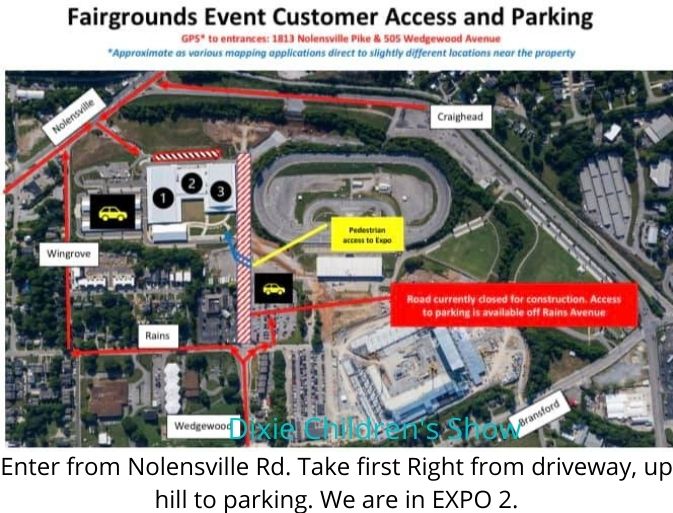 FALL - HOLIDAY 2024
March 15-17, 2024
FRIDAY - SUNDAY
The Fairgrounds, Nashville, TN
SPRING 2025
August 16-18, 2024
FRIDAY - SUNDAY
*****The Fairgrounds Nashville*****
Exhibit Hall 2
GPS Address To Gate on Nolensville Pk
1815 Nolensville Pike
Nashville, TN 37203
Follow signs for parking. EXPO 2
OR:
500 Wedgewood Ave
Follow Wedgewood Straight then turn Left to go to sheds.
OR:
401 Wingrove Ave
______________________________
FRIDAY, SATURDAY, SUNDAYFRIDAY, SATURDAY, SUNDAY - THURSDAY SET UP
MARCH IS DIFFERENT THAN WHAT WE TALKED ABOUT AT THE SHOW.
PLEASE REPLY TO THIS EMAIL SO THAT I KNOW THAT YOU HAVE RECEIVED THIS INFORMATION. THANKS
STORES
IF YOU ARE NEW TO US, PLEASE USE THE FORM TO THE LEFT.
IF YOU HAVE ATTENDED BEFORE THERE IS NO NEED TO SEND YOUR INFORMATION UNLESS YOU HAVE CHANGES.
WE DO NOT DO PRE-REGISTRATION.
If you are a store and are interested in attending one of our shows, a calendar of dates with venue location is below. There will be a few things that we will need from you in order for you to register. Bring a copy of your Business license or Sales Tax Certificate to the desk. If you would fill out the contact us with Names of Buyers in the message box along with your store address, we will have name tags ready for you. More information is on the "Stores" page. You can also email us directly at: dixieshows@gmail.com
615-838-6410 615-974-0120
THE BUYERS GUIDE IS ON THE STORES TAB . It is updated.
SALES REPS
SAMPLES SHIP TO
401 WINGROVE AVE NASHVILLE, TN 37203